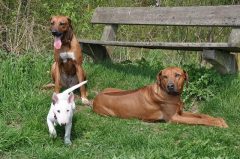 In the Beginning . . .
In the Beginning . . .
Our adventure into farming started on a beautiful August day in front of Ray's Food Place in Waldport, where we were taking our nearly 5-year-old grandson to grab a cheeseburger for lunch.  Outside the door were a couple young girls sitting next to a box.  Inside the box were two adorable puppies – about two pounds each.  We asked how big they would get, what kind they were, etc., then proceeded in to order our lunch.  While we were eating we asked our grandson, "What do you think, Connor, should we get a puppy?"  "Yeah," he answered.  We got the last puppy the girls had left and happily left the store with a guarantee from them that he wouldn't get bigger than 25 lbs.  That's right, this whole thing may never have happened if we hadn't asked Connor if we should get a puppy.  A word as simple as "yeah" was all it took to put the wheels in motion.
After one year, 75 lbs of dog and a couple neighbors considering legal action, we decided that Bayshore was perhaps not the best location to raise Rufus the Dufus Bowser Doodle Walker.  We put our adorable 1100 square foot house on the market and started looking for some acreage.  Our house sold much faster than we anticipated, and we suddenly found ourselves scrambling to find somewhere to live before the new owner moved in.
After a couple weeks of frantic searching, we were coerced by our real estate agent to look a a piece of property in Siletz that had a horse boarding facility on it.  It was out of our price range, and more property than we were really looking for, but we needed to move VERY soon, and once we saw the property, we were in love – there was no turning back.  Not quite 20 acres, it was perfectly flat and covered in beautiful topsoil.  It had a 100 foot by 135 foot boarding stable and indoor riding arena that already had several boarders in place, as well as an active 4-H horsemanship program.  House, garage, workshop and barn, some timber, lots of pasture, ponds in the winter and warmer than the coast in the summer.  We were home.