Sustainability Efforts
Sustainability Efforts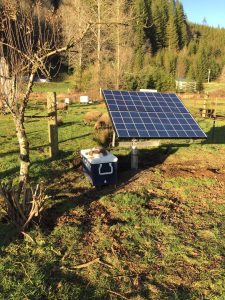 Here on the farm we spend a lot of time and effort finding ways to keep our farm from having a negative
impact on our planet. From capturing the sun's rays to provide solar power to collecting water runoff
from buildings to use for irrigation in the summer, we are working with Mother Nature to make our farm, our environment, our community and our planet a better place.
Some of the projects we have used on our farm to increase our sustainability include:
·        13.42 kW solar power system on the roof of our horse barn
·        Water pumped from our well using ONLY a solar powered pump with a battery backup
·        Use of LED and high-output fluorescent lighting wherever possible
·        2000 gallons of water storage to catch rain runoff from the horse barn.  This water can be used for irrigation during   the dry summer months.  The irrigation pump is also solar powered.
·        Skylights in animal housing areas were made using repurposed soda bottles
·        No chemical fertilizers, pesticides or herbicides are used on the farm unless absolutely necessary (it rarely is)
·        Animals are raised without hormones or antibiotics unless medically necessary
·        We use recycled nutrients as a regular component in our animal feed – Rogue Brewery in Newport, OR supplies us with spent grain – a waste product from the brewing process.  By mixing this in with our feed it keeps the spent grains out of the waste stream and our animals get premium nutrition that comes only 16 miles from our farm.   It doesn't get much more local than that!
·        We work closely with the Lincoln County Soil and Water Conservation District to enact measures on our farm that help us to protect the soil and water in our area.  With their help we have constructed manure storage to keep animal waste out of the groundwater, created high traffic area protection to keep areas in front of pasture gates from becoming muddy and unusable, put up fencing to create pastures that can be used in a rotational grazing system and more.
We recycle EVERYTHING!  From egg cartons and plastic shopping bags to scrap metal and building components, if it can serve another purpose, it will!